Venable 電能儲存分析儀, 2161、2165、2185、2361、2365、2385
提供Venable 電能儲存分析儀的詳細產品服務資訊,包括型號、名稱、敘述和規格。我們秉持著精益求精及高品質保證,提供一系列實用且價格合理的Venable 電能儲存分析儀產品,並以多年的豐富經驗及技術獲得國內外客戶讚許及肯定,若您有任何採購2161、2165、2185、2361、2365、2385, Venable 電能儲存分析儀需求,歡迎與我們聯絡。
2161、2165、2185、2361、2365、2385
Venable 電能儲存分析儀
功能說明 :
BATTERY TESTING SOLUTIONS
Energy Storage Test System
For mission-critical applications, researchers and manufacturers need to know without a doubt that batteries are charged and will keep a charge. Our Energy Storage Testing instrument (ESTi™), a commercial off-the shelf, PC-based modular battery test solution, offers highly accurate measurements at a fraction of the cost of a custom test system.
This system's highly intuitive ESTiViewTM drag-and-drop software powers the ESTi platform. You can quickly program charge, discharge, pulse, and ramp parameters to reflect exactly what you need to measure. You can also easily modify parameters based on changing application needs, create custom reporting dashboards, drag-and-drop module tests, and provide meaningful and actionable data from tests.
VENABLE ENERGY STORAGE TESTING INSTRUMENT
Features that Put You in the Driver's Seat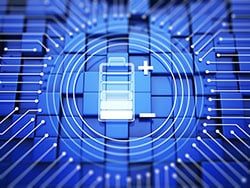 VENABLE INSTRUMENTS SUPPORT
Venable Provides the Support Necessary to Ensure Your Success
ELECTROCHEMICAL IMPEDANCE SPECTROSCOPY:
PROVIDING BETTER BATTERY CELL INSIGHT
A growing dependency on batteries requires diagnostics to maintain or predict battery reliability. There were many battery testing methods available, such as voltage reading, Coulomb counting and so on. However, these methods seldom provide full scale accuracy or have long testing periods, becoming a limiting step in battery processing throughput. This created a need for not only accurate but fast testing technologies for energy storage devices with good demonstration of reliability and repeatability.